1. Niche Social Platforms Will Perform Well
Facebook and Instagram have long dominated social media as the most important and popular platforms. However, in recent years, several other niche social media platforms have not only emerged but have significantly increased their notoriety.
TikTok, for example, is one such platform that started in 2016 and immediately gained popularity among young people. B2B companies prefer LinkedIn for their social media initiatives, while the gaming community is flocking to Twitch. There are several other such social media platforms that are gaining popularity and will continue to do so in 2020 and beyond.
Here are some of the most popular social media platforms based on the number of users or registered accounts.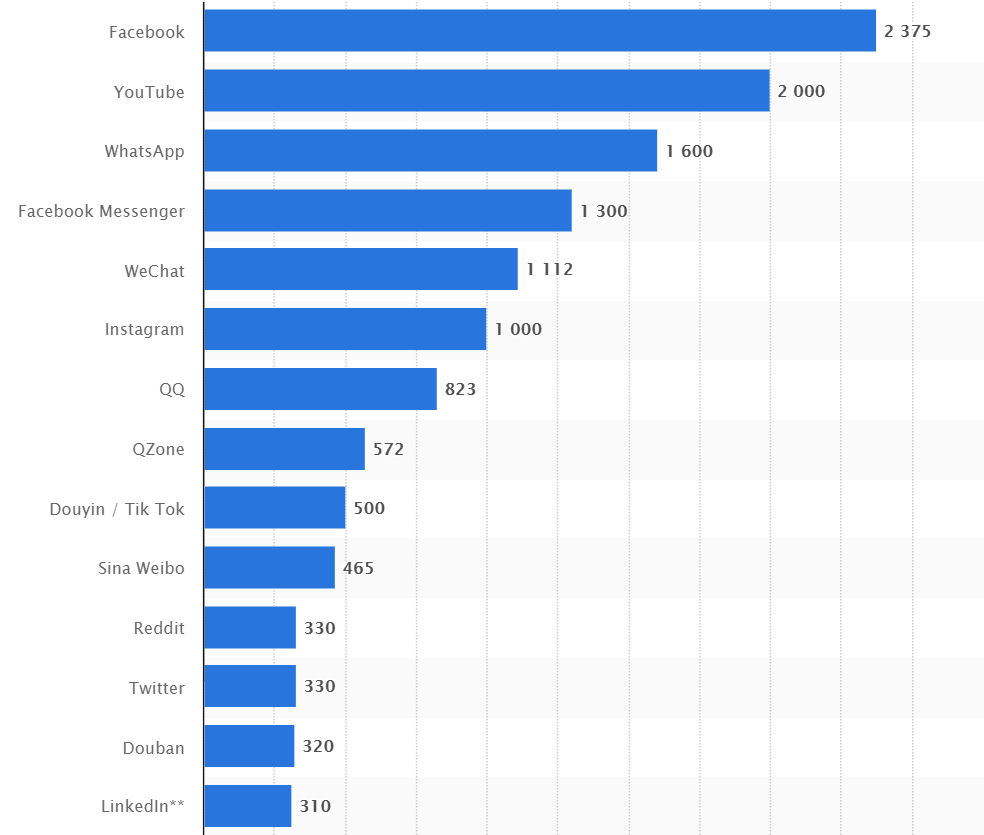 2. Social commerce will grow
Social media platforms such as Instagram, Pinterest and Facebook have long been used by brands to sell their products. Social commerce has become a new sales channel for brands and this trend will only continue to grow.
Social commerce is becoming a mainstream retail channel, along with other media such as websites and offline stores. This trend will be further strengthened with more and more social networks introducing pro-sales features such as purchase messages.
From product displays to Instagram Storefronts, social networks are constantly evolving into retail platforms. Brands and marketers will take advantage of this and integrate social commerce into their sales strategies.
3. Video content will dominate
Video content is one of the most attractive forms of content and will soon dominate social media: it will be far superior to all other types of content. From short videos like the popular TikTok or Stories videos to long content on YouTube, videos are the future of social media content.
According to a Cisco study, by 2022, 82% of all online content will be video content. This clearly shows how important it is to start using video content to remain relevant in the social media arena.
If you're not creating video right now, it's time to include it in your content strategy. In the near future, videos will dominate social media and anyone who doesn't realize this will find it difficult to do so.
You can start by using features such as Stories, both for your social media content and for advertisements. You can also add videos to your social media posts, even on platforms that were traditionally dominated by images or text.
Conclusion
These are some of the trends that will dominate the social media landscape in 2020 and beyond. Leverage these trends to your advantage and stay ahead of your competitors.
Social media is a dynamic and competitive space and these trends can help you win. So keep abreast of the latest developments around these themes and use them for your social media initiatives.